GeoDB Modeling and Design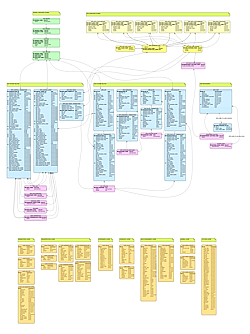 The utilization of well drafted data models ensures the efficient storage of geospatial data.
GeoICON offers the best of the breed database design and development service. These services include initial database design, conceptual data modeling, physical data modeling, and database implementation.
GeoICON's database designs are developed by geospatial database consultants with extensive experience designing databases for enterprise solutions. Our DBA's use open tools, and base their designs on industry-standard data models. With the help of our database consultants, clients have gained in depth knowledge on the capabilities of personal and enterprise spatial database technologies. Clients rely on our expertise to implement database solutions that have transactional, geometric network and versioning capabilities.
GeoICON ensures that the geospatial specialists of your organization will be able to handle the data models we design with ease and efficiency. A comprehensive secure solution is provided by our databases for the management of your geospatial data.
GeoICON's expert team has developed set of tools to manage the database effectively and efficiently in unattended mode including automated database backup.
GeoICON has designed databases which have datasets with multiple relations, for a number of organizations.
To know more about our Services, you can contact us through sales@geoicon.com or use our webform. Our consultants will attend to your queries soon.